Dexter and I had two wonderful naps today. The first one was for four hours and the second one was for about an hour and a half. I feel conflicted about his day time naps as I feel that he won't sleep as well at night .. during the holidays when he was up all the time watching everyone, he slept so well (around ten hours a night) but he was grumpy during the day. Better to let him get sleep when he can, me thinks !
He was just so good and adorable all day. We didn't even use the jumperoo today, but we did do tummy time twice (or was it three times), danced, sang, and even put him in the Ergo for a little bit. I'm still unsure how the Ergo is supposed to fit and I should ask the ladies at TMP to take a look for me. I think he's just on the threshold where he doesn't necessarily need the newborn insert but is still small without it.
Since Dexter has been having formula off and on, he isn't stooling as regularly as he used to. Right now, it's about every two days or so. Tonight, as I was feeding him before bed, he was making grunting noises and farting, and then I felt it .. the bubbly warmness again my thigh and I thought, oh here we go ! My mom walked in at one point and was talking when he sharted again and she just stopped midsentence and walked out of the room, haha ! I gave him time to finish while he drained his bottle and then we went to the changing pad to see how bad it was. He was wearing this really cute white onesie with light blue whales on it and the back of it looked okay.
It probably was okay until I laid him down flat on his back. That was probably when it shot up his back, because when I pulled his legs up to look, it was everywhere (and on my finger). Oh also, I think I hurt him by accident by lifting up his legs when he just drank because he started screaming and his face turned bright red. Curiously, he was actually tearing. I felt bad and sat him up and he seemed fine again.
I called for my mom, and she took one look and said, I'm going to bathe him in the sink ! I was happy to hand him over. :p I was holding him as she was undressing him and my fingers were stuck in the mud-like substance on his back. Yuck ! She took him to the sink and gave him a quick bath, and then wrapped him in a blue hooded doggy towel and said, "Okay now, don't pee !"
Of course, he immediately peed, and we laughed about that. I was going to leave the changing pad for Chris to find (lucky him), but decided it wasn't very sanitary to leave it airing out like that, and then noticed that there was also a poo smudge on the closet door.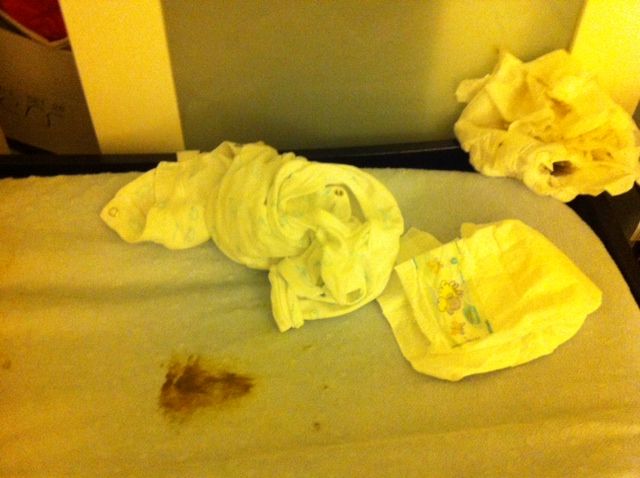 It is cold so I usually dress him quickly, but naked babies are so cute (preferably with a diaper on). I don't know whether it's because their skin is so soft or what, but babies look so good with no clothes on. <3
I also took these two photos for Chris; he thinks that Dexter really looks like me in the first one.