We took Dexter to get his third RSV shot first thing in the morning. While we were waiting, a lady brought her kid in who was obviously very sick and we're like edging away from her. She just kept standing there .. hello .. do you not see where it says "well child" ? Your child is obviously not well so you need to go stand somewhere else ! We also saw this mom and this kid .. they were Chinese and as soon as the kid crossed the threshold into the office, he took one look and immediately burst into tears and he kept saying, "Mama, women hui jia hao bu hao" (Mom, how about we go home) and "Mama, bu yao !" (Mom, I don't want [this]), etc. It was funny but also sad. At some point, the kid broke free and ran into the parking lot. When we left, the kid was still crying in the parking lot. One day Dexter may be like that. He already looks like this when we drive to the RSV place. He's like, I think I know where we're going !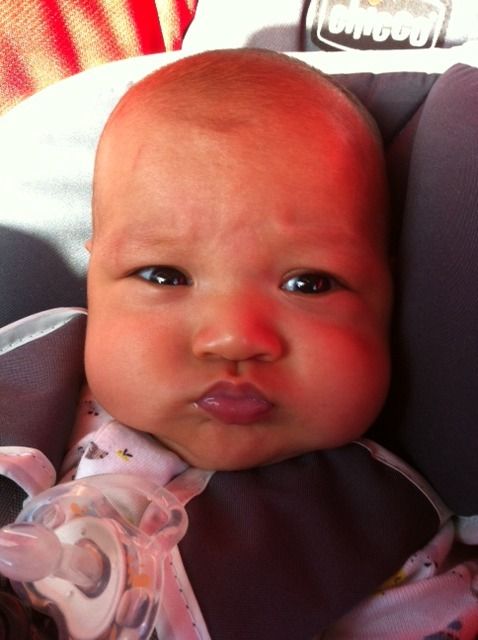 We didn't see the doctor today and for the first time the nurse administered the shot. Maybe it was for the best. After all, Chris did wish him a Merry Christmas. HAHA.
My sister was willing to watch chub chub and so I went into work to get some work done (deadlines ahh) and also to have lunch with my coworkers. I have great coworkers, have I mentioned that ? And I really like where I work even though I love spending my days with Dexter. We had a nice lunch at a Japanese restaurant.
I got so much work done today and I like feeling productive because not only does it keep the panic at bay but also makes me feel useful. My boss left early today and so did my two coworkers so after lunch I found myself alone in our area and after getting what I wanted done for the day, I headed to Toys R Us.
The Nap Nanny was recalled officially so I went and returned our nap nanny and got current price for it in merchandise credit .. not bad. I wanted to buy some large size swaddlers but they didn't have it in stock but I did pick up a Summers seat/play thing. I was originally going to get a Bumbo but this Summers one had better and more reviews on Amazon. I also got some rings and keys for Dexter to play with and a Dr. Brows watermelon teether (total impulse buy since it was cute).
We did more tummy time today and he is doing great ! Oh, and I wore Uggs for the first time. Random, I know.